The preview displays your report template with live data. The actual printout is generated from the report template with the actual data. You can also print directly from the preview or save the output to a file. Various file formats such as Excel, PDF, ASCII, HTML and others are supported here.
Report Preview
Output to printer or file
The printer icon can be used to output reports directly from the preview to the printer or to a file.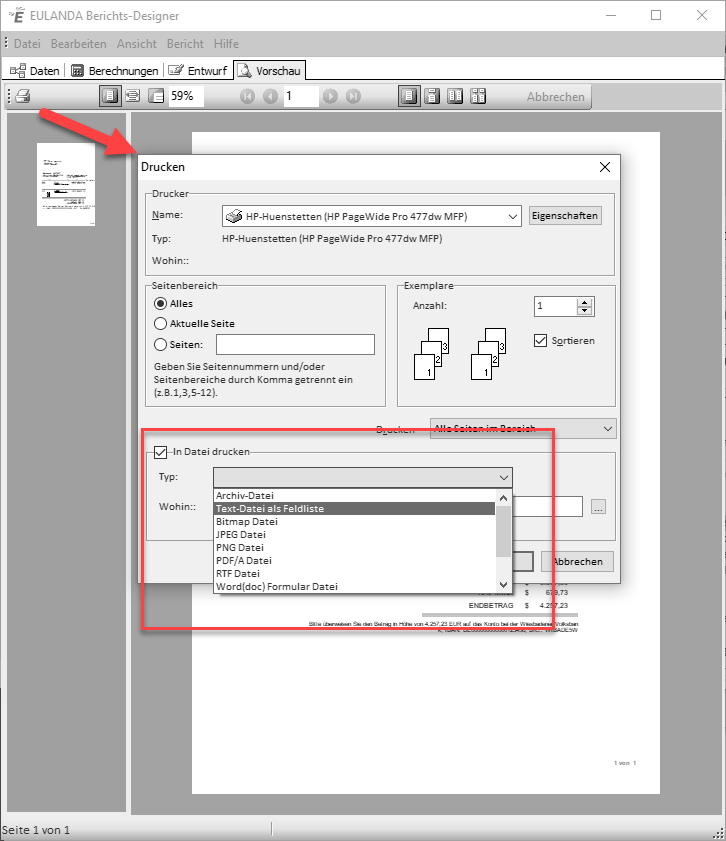 Print from Preview
If the printer driver has special functions that are not displayed in this box, you can set these using the"Properties" button.
The page area of the printout can be adjusted flexibly. In addition to"from" and"to", individual pages can also be listed in one operation.
Sorting is also an option. In contrast to many other applications, EULANDA® controls the sorting itself. The sorting function is therefore independent of the printer driver.
If you want to output the report in a file, you can select the file option in the lower area of the print box. Various output formats are available in the selection box. You can select the file name using a standard file box. To do this, click the button with the three dots at the end of the file specification field.
Zoom levels
There are three zoom levels next to the print icon. The first symbol shows the complete page in the preview and reduces it accordingly. The next icon displays the output using the screen width. Use the scroll bars "up" and "down" to move the visible area. The third symbol represents the output 1:1. Use the two scroll bars on the left and bottom to move the visible section.
Change sides
You can use the arrow icons on the toolbar to scroll forwards or backwards page by page or to display the first and last page of the report.