General
The add-on module DATEV in CSV format allows to transfer outgoing invoices to the DATEV system or a compatible financial accounting system.
It supports the DATEV format in ASCII format structure including headers.
You can find the DATEV interface in the order system under Invoice and there under File.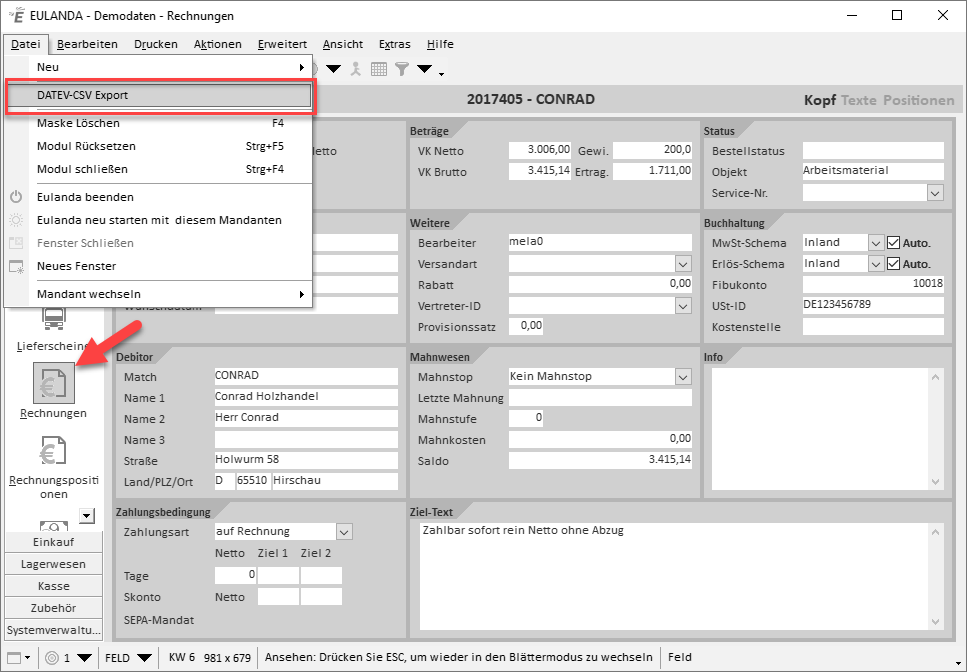 DATEV interface
Default settings
Before you export invoices, the basic settings must be made. Customers who already used the old DATEV module can look up and adopt their basic settings there. The settings are also available from the Quick Launch Bar\Accessories\Settings.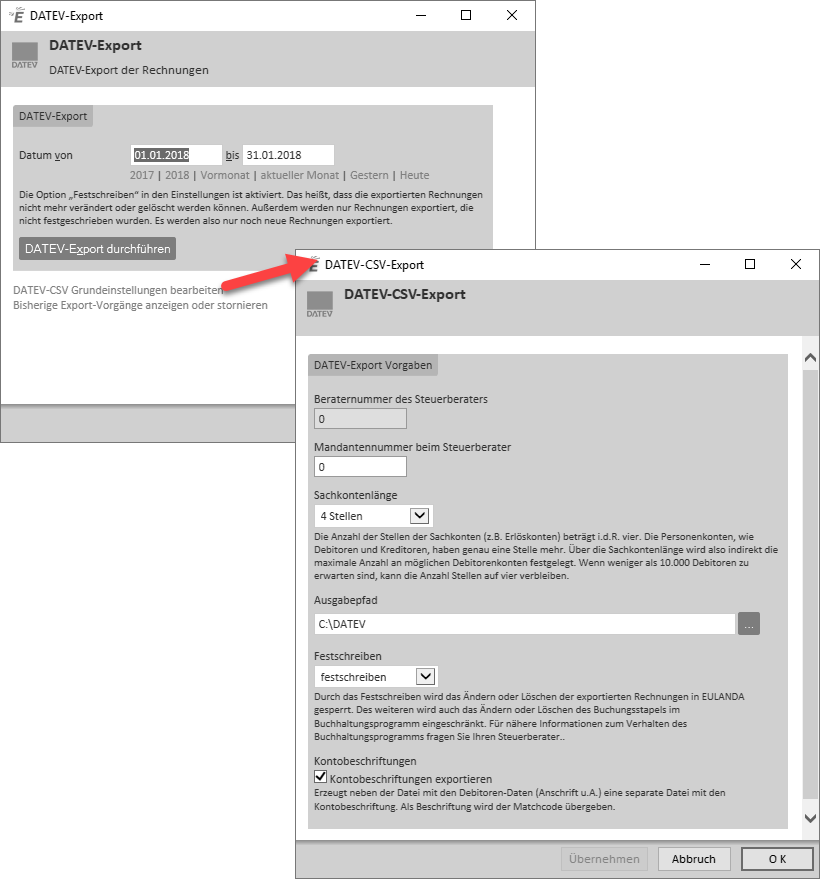 Editing the basic settings
Setting options in detail
Consultant number of the tax consultant
Client number at the tax consultant
G/L account length
Possible values: 4 to 7
The number of G/L account digits (for example, revenue accounts) is usually four. The subledger accounts, such as customers and vendors, have exactly one more position. The maximum number of possible customer accounts is therefore defined indirectly using the G/L account length. If less than 10,000 customers are expected, the number of digits can remain at four.
Output path
Codification
Possible values: "do not commit", "commit".
The change or deletion of the exported invoices is blocked in EULANDA by the fixing. It also restricts changing or deleting the posting lot in the accounting program. For more information about the accounting program, contact your tax advisor.
Account labels
Creates a separate file with the account label next to the file with the customer data (address, etc.). The matchcode is transferred as the label.
Starting the DATEV export
To start the export, select the desired period first. Then click on "Perform DATEV export". If the export was successful, the message shown below and the file path under which the export data is saved will appear.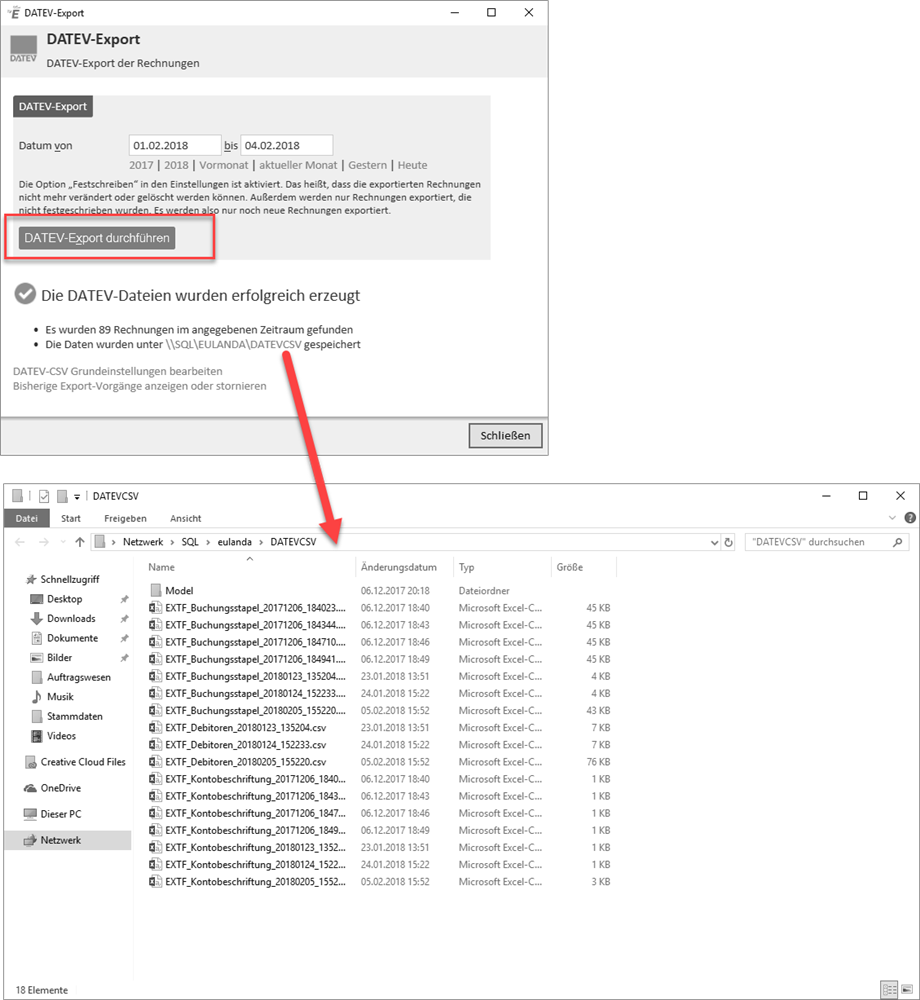 Successful export
Possible error messages
Missing revenue groups
The revenue groups are missing in the corresponding items in the displayed invoices. These must be maintained in the article, then the export can be started again.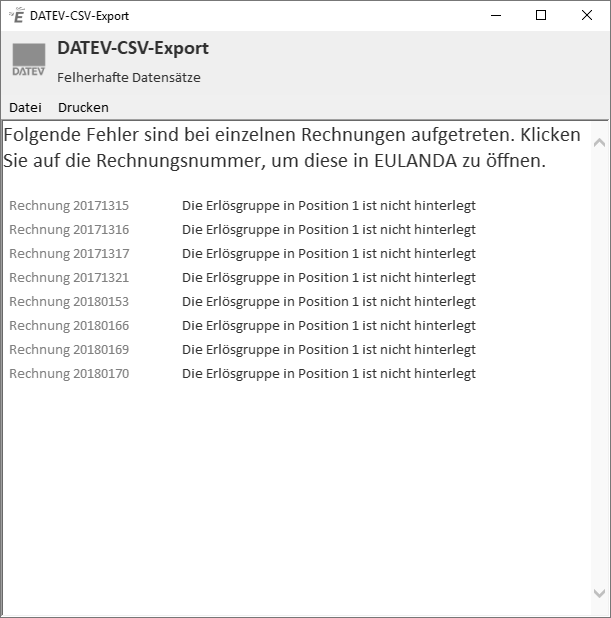 Missing revenue groups
No invoices found
This message appears:
If no invoices exist in the specified period
This period has already been exported. If the export was faulty, you can cancel it as described above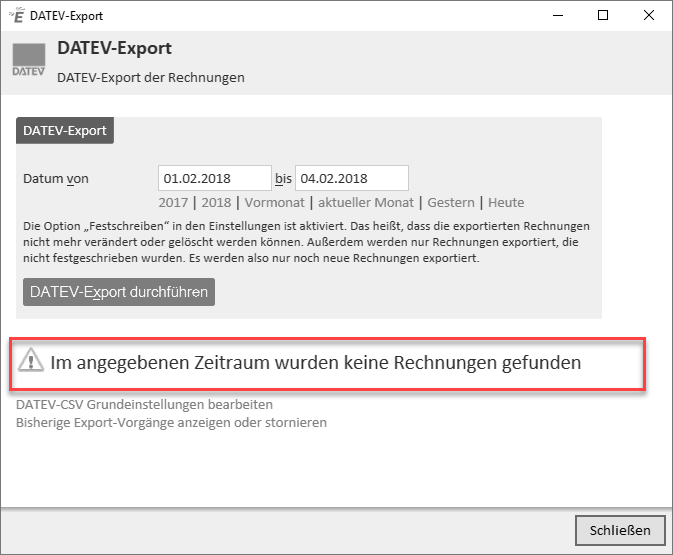 No invoices found