General
The new, optional "Service Articles" module allows you to create your own class of articles or objects that are in the possession of your customer and need to be maintained or maintained in some way or simply catalogued, independent of the "normal" articles. Here are a few examples:
Kfz (the VW Golf with registration K XY-123 of customer Meier)
Machines and devices (The Hilti TE-2 M percussion drill at Tiefbau Müller KG)
Annexes
Software
Immovables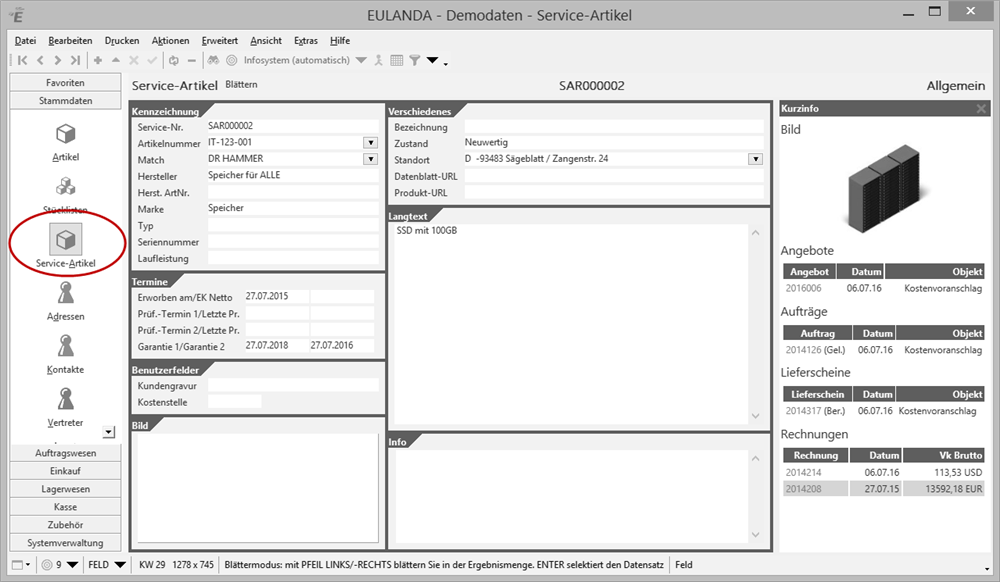 Service Articles
A service item is, for example, a special vehicle of a customer, a car repair shop or an electrical system or machine that has to be checked regularly.
In addition to manufacturers, serial numbers, test dates, warranty data and much more, you can also create your own user fields.
In connection with our DMS module, PDF images and other file types can of course also be stored.
For example, scanned test protocols.
Maintain an overview: Starting from the service article, you can immediately switch to all linked processes, such as cost estimates, orders and invoices.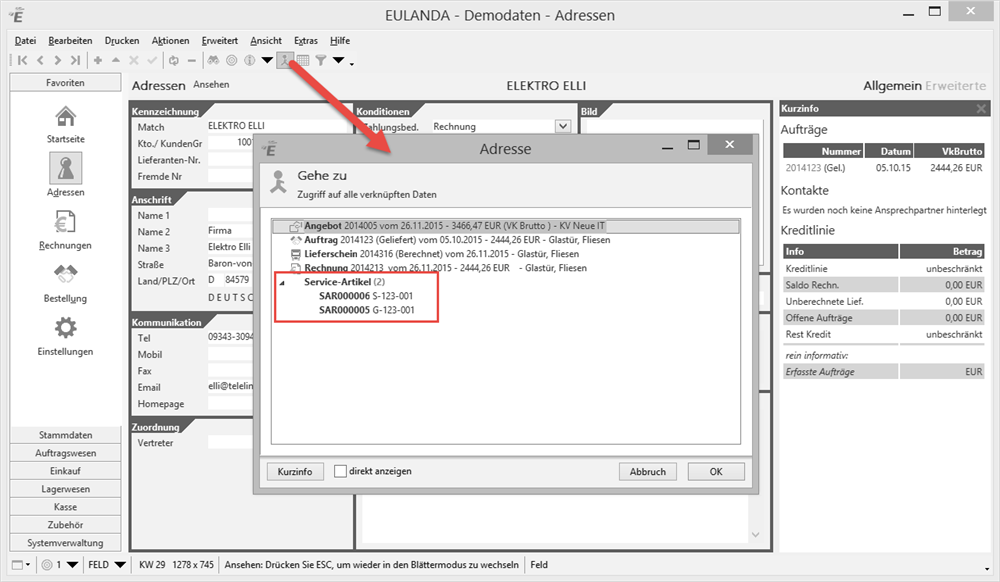 Overview in customer address
Creating Service Articles
You can create a service article in various ways.
1.... Directly in the module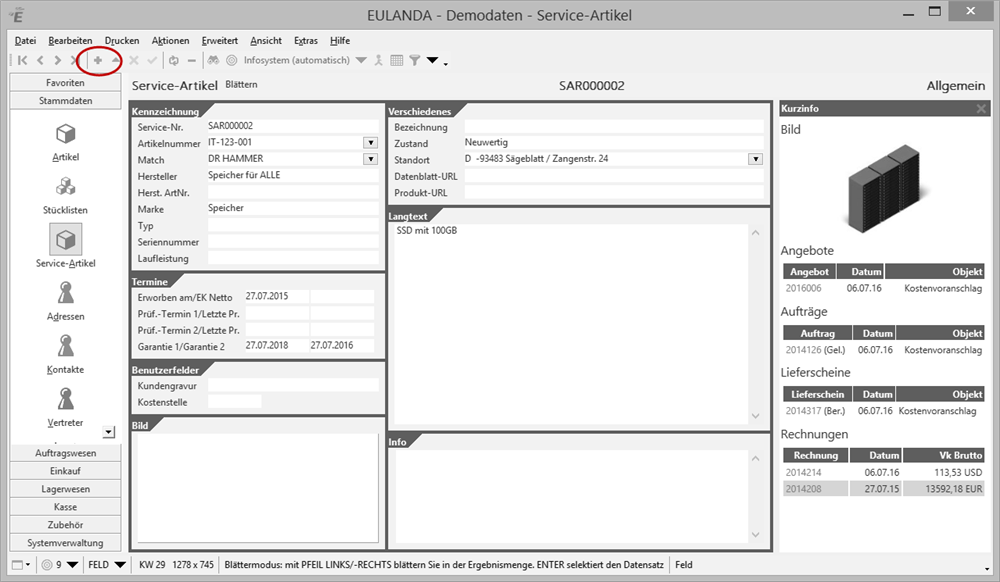 Creating Service Articles
To do this, open the service article Module under Master Data - Service Articles. You then create a service article using either the plus sign or the key combination CTRL+N.
Next, you can assign an article from your article master and an address of a customer to this service article.
The article number and match fields are available for this purpose.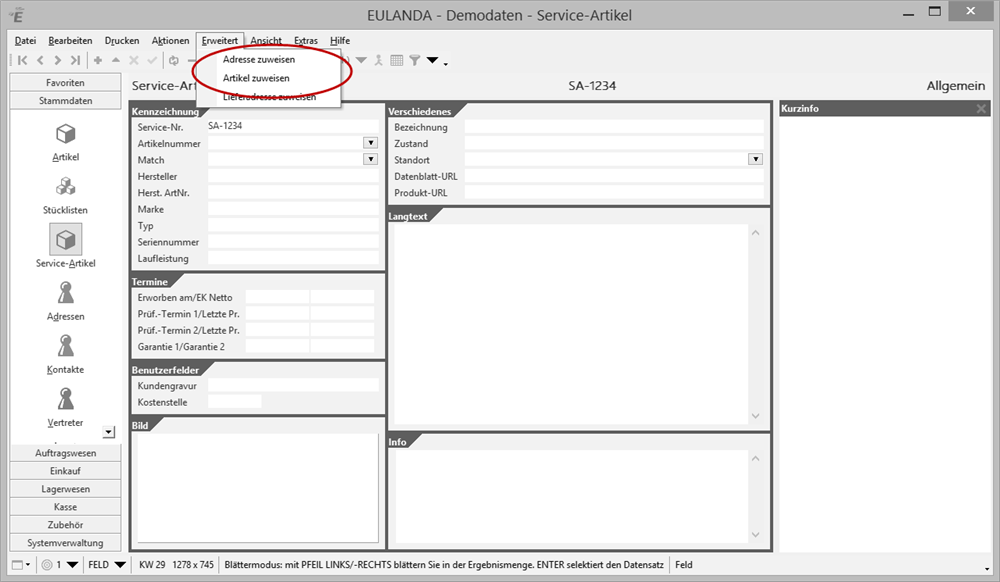 Assign article and address
In the last step, you complete all the required data, such as test date or warranty.
You can also store images or other files for this service article in the document directory, and all service articles of a customer can be accessed via the go to icon
to keep track of them.
2. ... Via invoice items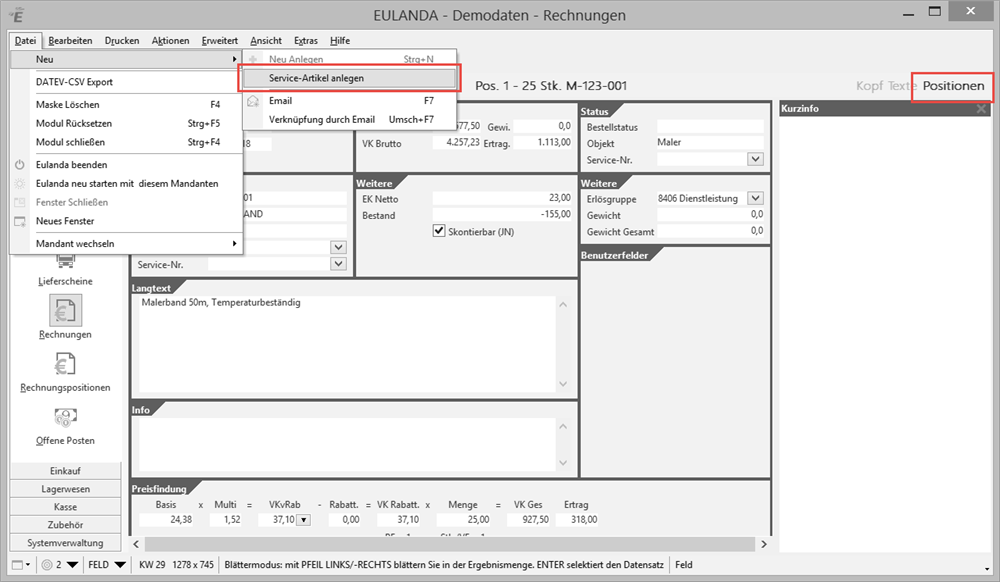 Create via Invoices
In an existing invoice, you can also create a service article using the invoice items.
To do this, call up the invoice and select the item that is to be created as a service article.
Via "File - New - Create service article" this article is automatically created as a service article, whereby all existing data, e.g. the customer address and the article is taken over.
In this service article all missing information can be added.
3. ... About articles
The third option is to create a service article directly above the article.
The article is selected and the service article is created under Create New File Service Article. All information available in the article itself is automatically transferred, missing information can be added.