General information
The homepage of EULANDA® is displayed after the start of the system. The displayed information is completely in HTML - so it is a normal WEB page. The homepage can also be operated like a web page. All links can be clicked and branch to further information.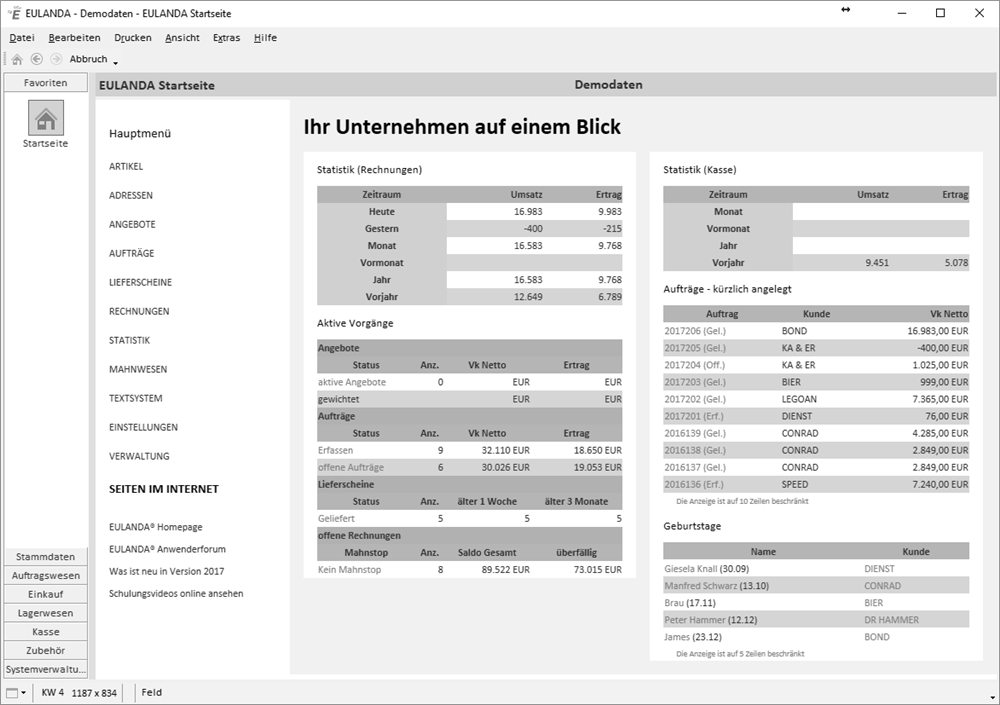 Homepage
The homepage is built into the EULANDA® program and stored in the SQL registry in the folder \MDOULES\WEB. In the SQL registry section \USER you can specify under ALLUSER whether this homepage should be used from another folder of the SQL registry or from the file system.
If the File system option is used, the following guidelines apply to the name and location of the HTML file.
The HTML file must be named "EULANDA.HTM" or "EULANDA.MHT" and be in the program folder. As an alternative to the EULANDA® program folder, the user folder can be used. This depends on the operating system used and is, for example, in the Windows® 10 version in the folder "C:\Documents and Settings\\Local Settings\Application Data\EULANDA Software GmbH\Eulanda\Clients\". The files "EULANDA.HTM" or "EULANDA.MHT" are also accepted here.
The web page can be created with any HTML editor, including the integrated HTML designer, and used to display current information on the intranet.
iScripts can be used to connect the web page directly to the EULANDA® database. All basic functions of EULANDA® are available as object models in the script languages VBScript, JScript and other Microsoft-compatible script languages. In this way, for example, current daily sales can be displayed on the website as an incentive for employees or other interesting information for the company and its employees.