General
Collective invoices can be created from open delivery notes at any time. To do this, go to "Delivery note" in the action menu and select "Convert several delivery notes to invoice...".
In the upper part of the window, you see all customers for whom there are no invoiced delivery notes. You can see the corresponding delivery notes for the currently selected customer in the lower area.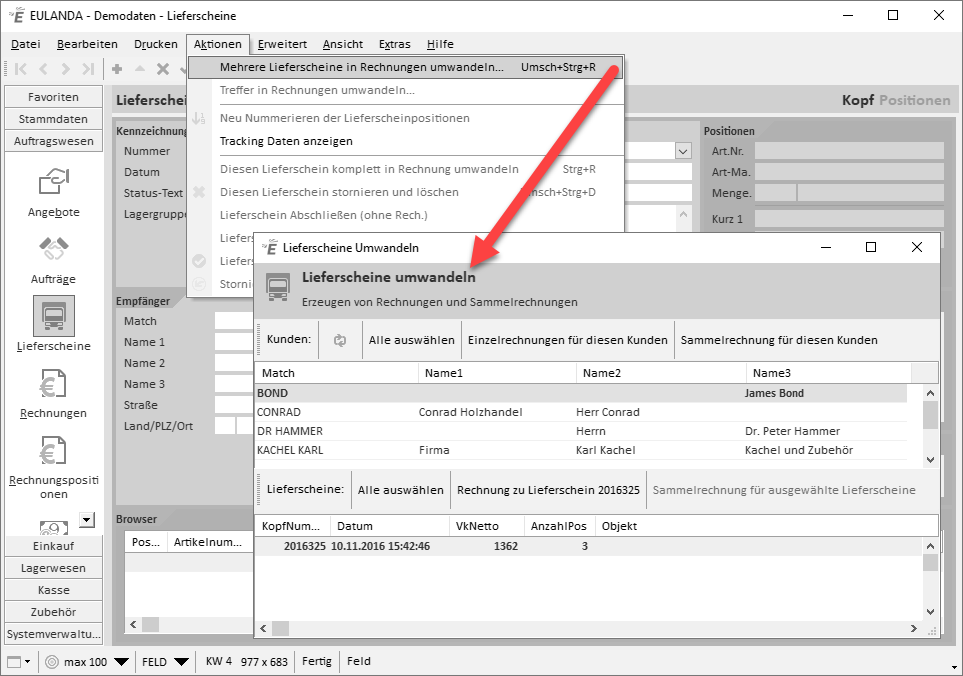 Convert several delivery notes into hits
You have the following conversion options:
Single Convert
This converts only the selected delivery note into an invoice. This function has the same effect as the"Convert to Invoice" menu item in the"Action" main menu.
Convert All
All delivery notes for the selected customer are combined in a collective invoice (provided the same terms of payment apply).
Marked Convert
If you hold down the CTRL key, you can select several delivery notes. These are then highlighted in blue. If you want to select an entire area in one piece, click on the first one with the mouse and then press the DOWN ARROW key while holding down the SHIFT key until the desired delivery notes are highlighted in blue. The marked delivery notes are converted by pressing the "Convert marked" button.
Note that you can only convert delivery notes into invoices for which a stock posting has been made. If your delivery note is missing in the list, you can open the delivery note as usual and select the function "Book warehouse" in the extra menu of the delivery note.
When converting to collective invoices, you can only combine delivery notes that are identical in the conditions, that is, have the same total discount in the corresponding order, the same terms of payment, and so on.