General information
A delivery note can be created in various ways. There are three options from the order in the special menu:
Convert to delivery note: This menu item releases the complete order for delivery and creates a delivery note.
Convert to Invoice: This point is one way of generating an invoice immediately without further input from the order. A delivery note is created and posted implicitly. This fully automatic system guarantees the simplest way from the order to an invoice, but also the correct posting of the business transaction by automatically generating a delivery note.
Convert to delivery note...: Allows partial deliveries of an order to be created. In a dialog box, you first see all open orders. You can select one of them and change the subsets in the "Proposal" field. A partial delivery note is then generated when the dialog is converted.
Only in the fully automatic version, the item "Convert to invoice", the delivery note is not only generated, but also posted from the warehouse.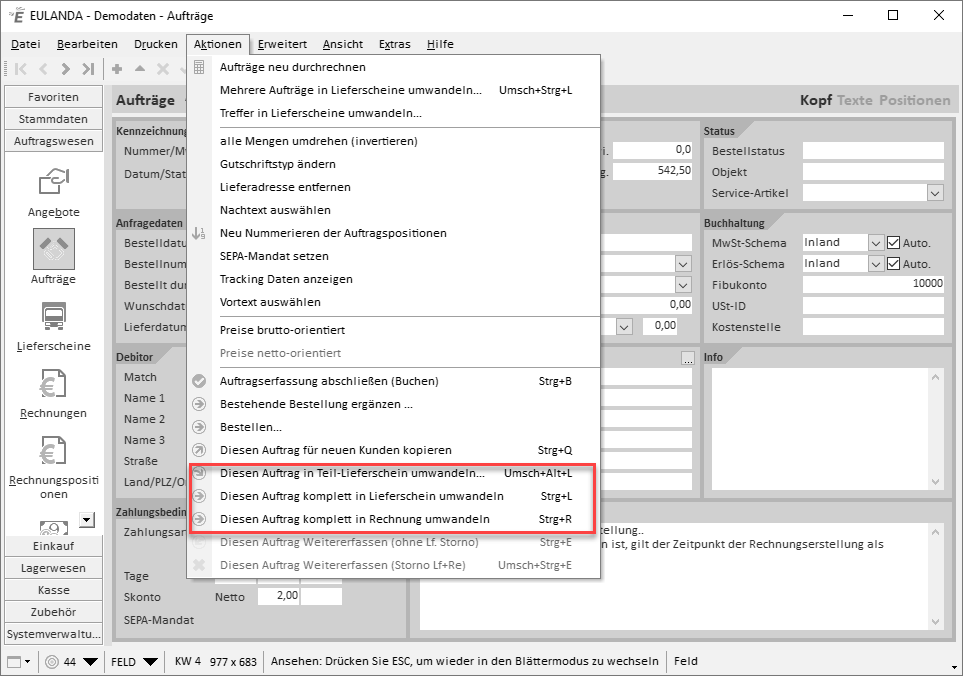 Actions menu
After conversion into a delivery note or partial delivery note (first and third point of the overview), the goods are initially only reserved, but not yet debited from stock.

The warehouse clerk can now call up the released delivery notes in the main menu item "Delivery note". The ENTER key in the "Number" field always calls up the latest delivery note. The displayed delivery note can now be booked via the extra menu with "Book stock" and then converted into an invoice.

When converting into invoices, a single delivery note or all delivery notes can be converted into an invoice.

With the"Convert all delivery notes" function, delivery notes to the same customer are combined into a collective invoice. However, it is important that the conditions in the corresponding orders are compatible. Compatible means that the orders belonging to the customer do not have different overall discounts, that the payment term is identical, and so on. Otherwise, you must convert the deviating delivery notes individually into invoices.
Part delivery note
Post order
Select the item "This order in partial delivery note..." in the order.
Accept the proposal or edit the quantities
Book the warehouse in the delivery note
Select"Convert to invoice" in the delivery note
Calling up and printing invoices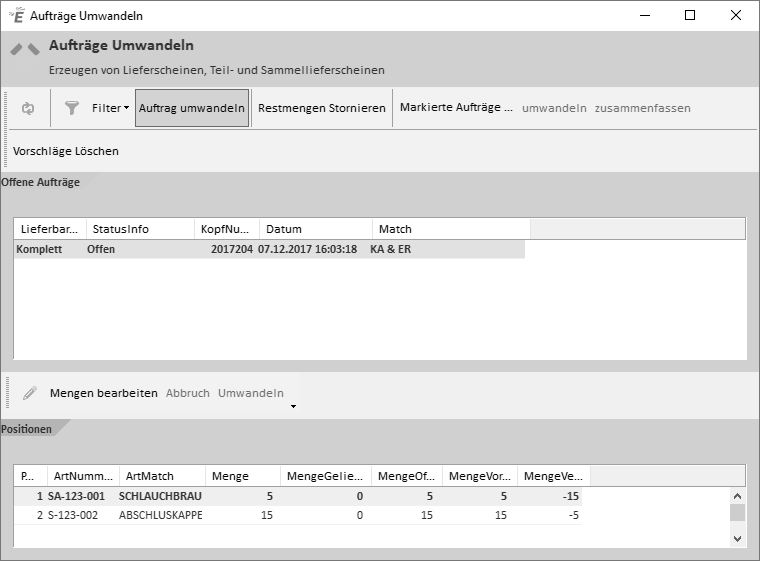 Convert order to partial delivery note
You can use this dialog to determine whether all deliverable orders are to be converted to a delivery note. At this point, you can use the "Edit quantity" function to determine which item quantities are to be delivered. If you want to deliver less than proposed, enter the appropriate quantity.
If the order is an underdelivery, the order is to be completed even though goods are still in backlog, you can select the"Cancel remaining quantities" function.