Convert order to invoice
When order entry is complete, use the ESC key to switch to the header data mask and select "Convert this order completely to invoice" in the Actions menu or alternatively CTRL+R.
The following processes are triggered in the SQL server via this automatic system:
Order is posted and thus closed
Delivery note is generated
Delivery note and thus the warehouse are booked
Delivery note will be converted into an invoice
You branch to the invoice module
The new invoice is displayed and can be printed out
This menu item automatically branches to the invoice and the converted invoice is displayed. This can be printed out immediately using the"Print" menu. Alternatively, the key combination CTRL+P is available here.
You should always check an order before converting it into an invoice. If you do not find an error until printing the invoice, you can jump back from the invoice to the order by selecting the male in the toolbar or alternatively using CTRL+G. Select the order in the GeheZu dialog.
The selected order is displayed so that you can now open it via the Actions menu and the menu item "Continue this order (reversal Lf+Re)". Alternatively, you can open it using the key combination SHIFT+CTRL+E.
This reverses all postings for this order. The order can now be corrected and converted into an invoice again with CTRL+R.
With only 2 clicks from an invoice you have entered the change mode of the order!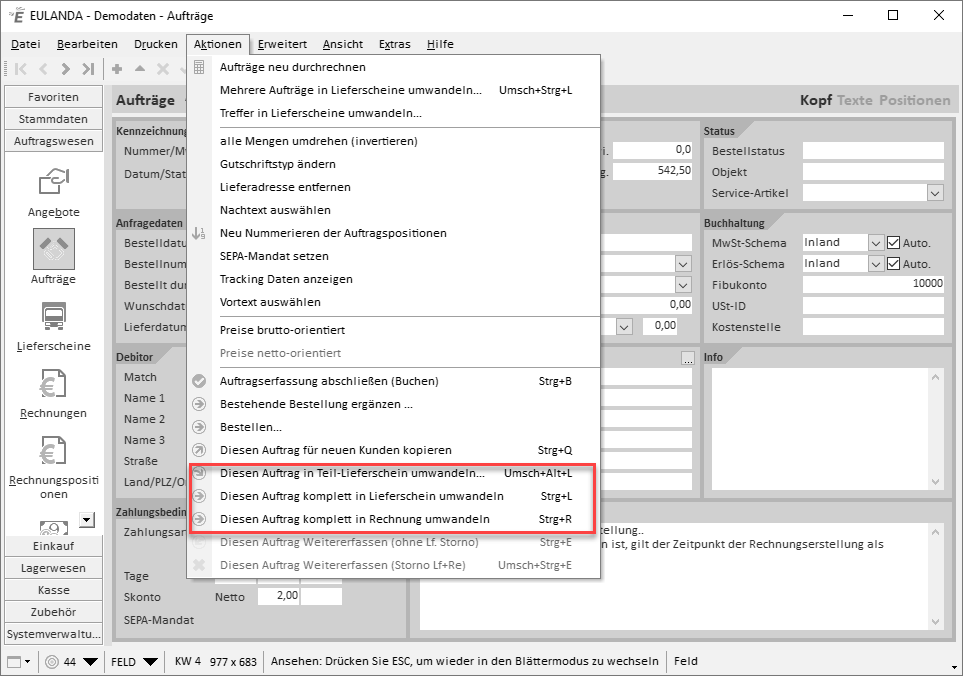 Convert order to invoice
DATEV-CSV interface
The add-on module DATEV in CSV format allows to transfer outgoing invoices to the DATEV system or a compatible financial accounting system.
It supports the DATEV format in ASCII format structure including headers.
You can find the DATEV interface in the order system under Invoice and there under File.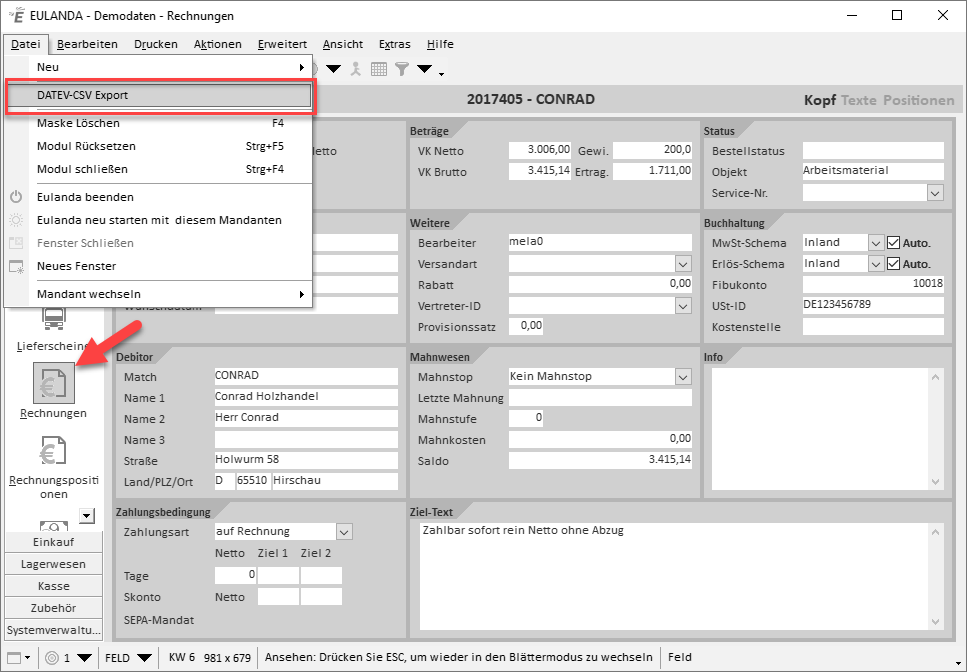 DATEV interface
default settings
Before you export invoices, the basic settings must be created. Customers who already used the old DATEV module can look up and adopt their basic settings there.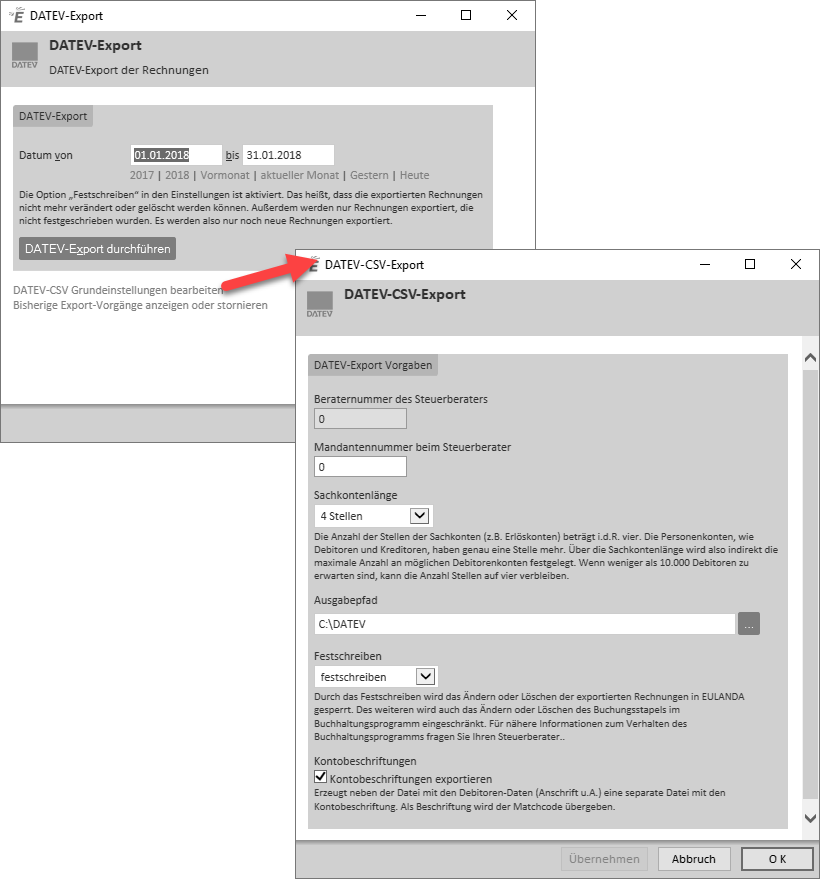 Editing the basic settings
Starting the DATEV export
To start the export, select the desired period first. Then click on "Perform DATEV export". If the export was successful, the message shown below and the file path under which the export data is saved will appear.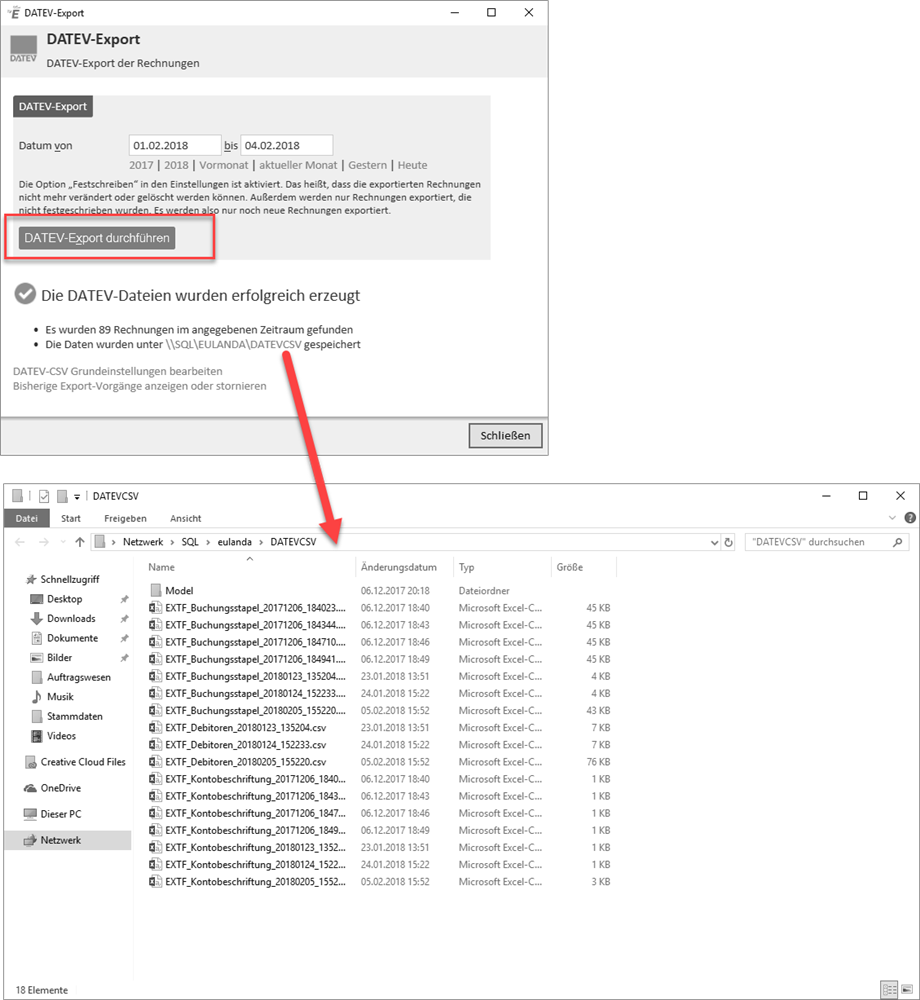 Successful export
Possible error messages
Missing revenue groups
The revenue groups are missing in the corresponding items in the displayed invoices. These must be maintained in the article, then the export can be started again.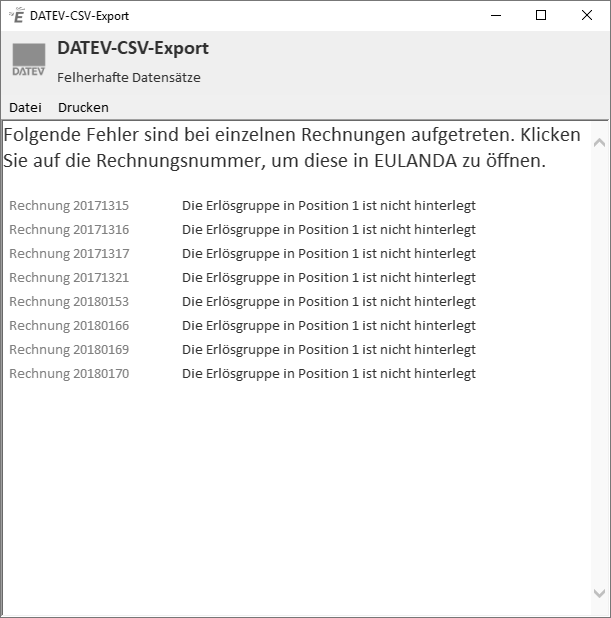 Missing revenue groups
No invoices found
This message appears:
If no invoices exist in the specified period
This period has already been exported. If the export was faulty, you can cancel it as described above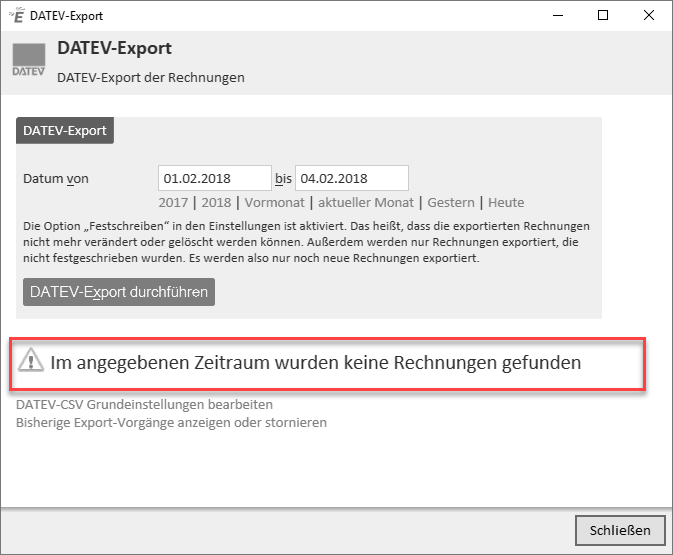 No invoices found