Scope
Any number of deliveries (goods receipts) per order
Reversal of remaining quantities (also partially) with specification of a reversal text
Creating Items Automatically from Order Proposal Lists
Creating a purchase order corresponds to creating the order, so that only this is described in detail.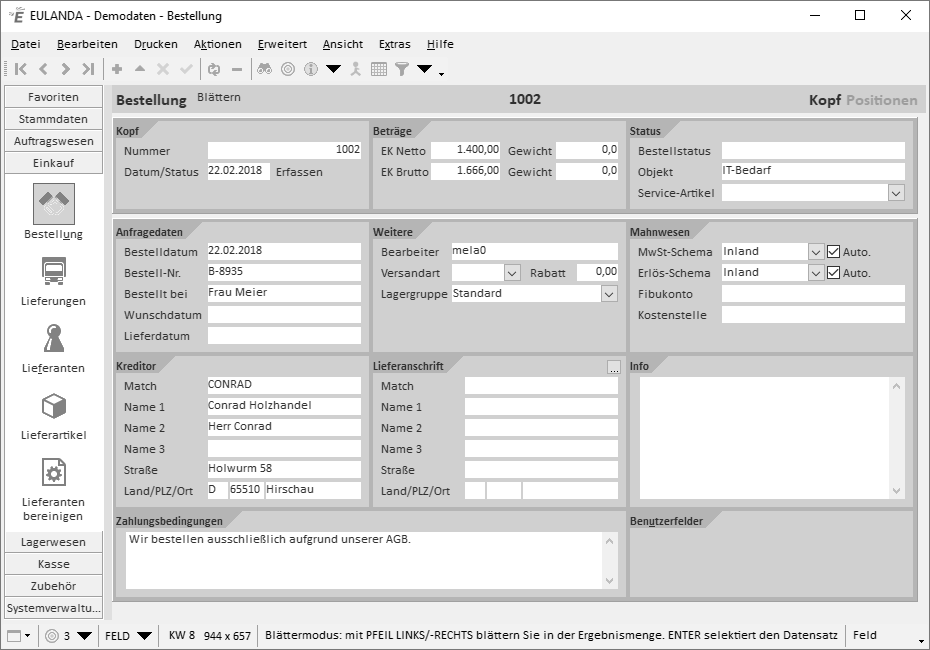 Mask Orders
Like every data record, a new order is created using the "+" symbol in the navigation or using the key combination CTRL+N. After saving the order header with CTRL+ENTER or the check mark in the navigation, the system branches to position entry.
Completing the entry
The order entry is completed by pressing the key combination CTRL+B. This gives the order the status "open" and is taken into account in the various information systems and evaluations. For example, the order proposal list should be mentioned here.
Posting the delivery
You can create a goods receipt for a purchase order via "Create goods receipt" in the "Actions" menu or via F12. EULANDA® will then automatically jump to the Delivery module. Alternatively, you can also create a new goods receipt in the Deliveries module with CTRL+N and select the corresponding purchase order. This is exactly the same function! Depending on how your company works, one way or the other may be practicable.
Part shipments
Backorders are carried with every order. This means that if you only receive a partial delivery of the ordered goods, EULANDA® remembers the still open quantities. The next time you create a goods receipt for this purchase order, fewer items are generated.
If certain items are no longer available or if you have cancelled your order, you can do so in the order under "Cancel remaining quantities" in the "Promotions" menu.
Treatment of the purchase price
When the purchase order is posted, the purchase price of the relevant vendor articles is also updated. This is the EC, which is displayed, for example, in the"Sources of supply" short info for the respective article. The purchase price of the master article is not changed automatically. The master HR is only changed when the delivery is executed if this has been defined accordingly in the settings.